MEET OUR TEAM
We care about you & your car!
Why do we operate and manage a car wash?
Because we love cars and we want to help people take better care of their vehicles.
Come in and see!
That booming voice you hear belongs to Ron Manning, co-owner of Branford Car Wash. A lifelong Connecticut resident, Ron had spent more than 30 years in the industry before he was able to purchase the Branford location. Like many in the business, he loves cars and has tailored the Branford location to take care of the Branford-area residents who bring their cars in for a wash, detail, or service.
Jose A. Gosp is a partner/owner at Branford Car Wash, and has worked at the location for 24 years. Jose oversees daily business operations and performs maintenance, including rebuilding pumps and welding. Jose has enjoyed being around cars since he was a child. He's worked as a mechanic, and still owns the muscle car he drove in high school and has restored over the years.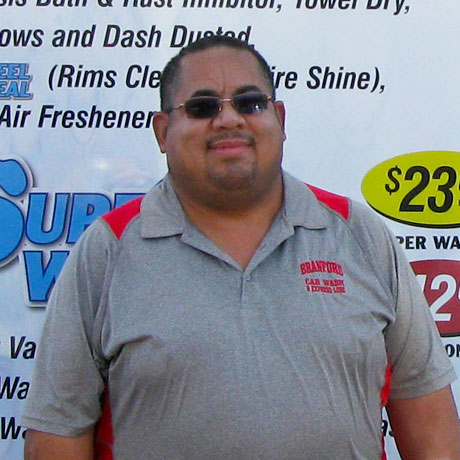 Mynor Garcia Salas
Manager
As manager at Branford Car Wash, Mynor oversees the day-to-day operations of the facility. He puts together schedules and keeps an eye on the daily bottom line. He has 5 years of experience in the car wash industry and is fluent in both Spanish and English.
WHY CHOOSE US
We care about you & your car!
We're open all year, and our team of automobile experts will care for your car, even during the worst weather of the winter.
We'll keep the exterior of your car free from salt, sand and debris when the weather is cold, and make sure it looks great when it's hot and humid during the summer. Inside, your carpet, upholstery, dash, and console will be manicured by our skilled detailers, and when your engine lets you know it's time for an oil change, we'll get you in for service and back on the road in a hurry.
Plus, if you live in the Branford, CT area, we're conveniently located on Main Street in the center of town. Pull in today and let our team get your vehicle looking like new again. That's our promise!
OUR LOCATION
938 W. Main Street
Branford, CT 06405
WORKING HOURS
Mon - Sat : 8 a.m. - 6 p.m.
Sunday: 9 a.m. - 4 p.m.